Before installing the residential Schlage Deadbolt B60, B60CS, B60F, or B62, check the door jamb and door preparation. It is important that the deadbolt holes are bored through with the right holesaw. For this lock, the main bore should be 2 1/8 inches or 54mm. The latch bore should be 1 inch or 25mm. The hole in the door jamb should be about 1 inch or 25mm in diameter. This should be lined up with the latch bore so the deadbolt latch will throw/engage into the door jamb hole properly.
Step 1: You want to choose the correct face plate for your latch. If the door jamb is prepared and chiseled out in the shape of the default latch plate, then proceed to the next step. If it is not, you will want to pry it off and put on the round alternative face plate.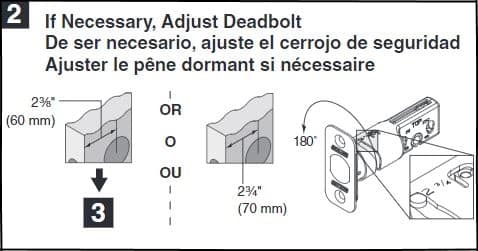 Step 2: The latch is adjustable for two settings: 2 3/8 inches and 2 3/4 inches. Set the latch to the correct setting by twisting it to extend or reduce the latch reach.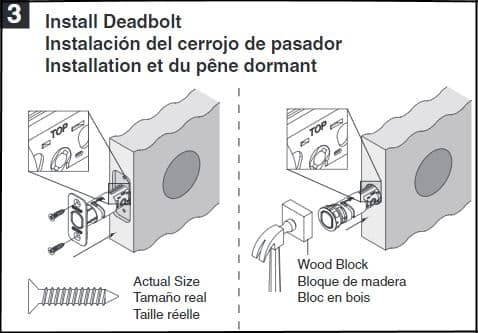 Step 3: Slide the deadbolt latch into the door. Be sure that the "TOP" label is read as in the picture. If the latch does not slide into the door smoothly, you can place a block of wood on the outside and lightly tap it with a hammer. If you are using the default face plate, insert screws in the holes to hold the latch in place.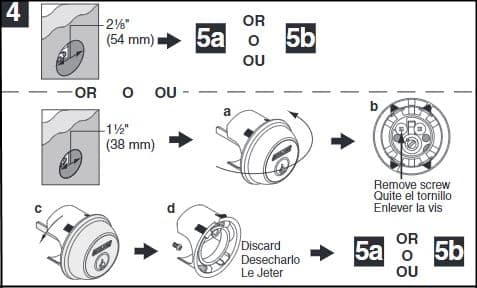 Step 4: Turn the tail piece of the cylinder with your fingers to position it properly so you can push it through the deadbolt latch. Next, take the thumb turn component and place it on the opposite side of the door connecting it to the tail piece. Turn the deadbolt to half engaged to allow the bolts to go in with out the the thumb turn interfering. Tighten the bolts.